Dennis JuM (Dad)*
#GDR-A-4986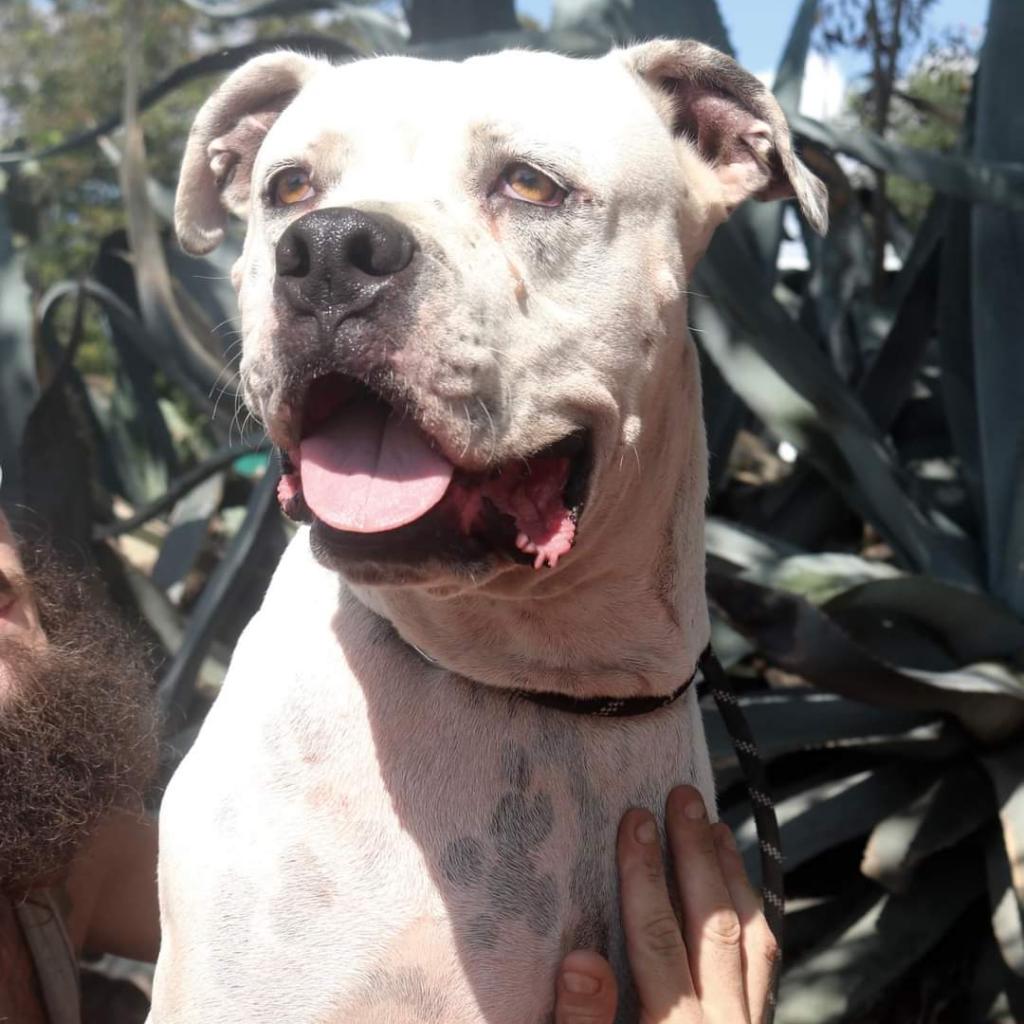 ‣
‣
1 / 7
Breed
Dogo Argentino / Bulldog, American
Age
6 Years and 2 Months old
Dennis the menace was a pretty cute kid. Therefore I am cute too!
I am an adult, with puppy-like exuberance for life and food!

I arrived at the rescue with my wife (Dee Dee) and our kid (Donna) after being left in our backyard when our "family" moved. Can you imagine? I gave them 3 years of devotion, and they just leave me like an old newspaper.....
So, enough about my sorted past, let's look at my BRIGHT FUTURE!!!
I am a handsome guy, full of love for life. I love female dogs, male dogs are more challenging because I am an alpha sort of dog, with the females I am fine- even dominant females like my Dee Dee.

I am a good 60lbs, I'm such a big boy who makes for great cuddles! I am a good protector of your home and my people. I won't let those pesky neighbors over, unless you invite them ;)
I have lots of fun running and playing and I would be a great outdoor adventure buddy!
Let's get on the trails and go!

Dennis can only be adopted in the local area.
Local adoption fee is $200.
Attributes
Adult-Only Home Preferred
Ready to meet your new best friend?
ADOPTION REQUIREMENTS
To adopt we require… all pets are indoor animals, current on vaccinations and spayed/neutered unless medical reason why and dogs on heartworm prevention.
ADOPTION FEES
Adults are $200 and under a year is $250 in Texas.
Out of state adoptions are $400 – $500.
(Specialty breeds could have higher adoption fees)
Something to Consider:
Puppies don't train themselves

If you aren't willing to train a puppy every single day, don't get a puppy! It isn't a one-shot deal. You have to be dedicated. And if you aren't making progress – find someone who can help. Enroll in a puppy training class or hire a trainer. Most cities across the nation have some sort of availability for this kind of help and at different cost levels that would fit your budget.

Puppies are going to poop a lot and pee even more; chew on everything; bite everyone; scratch people and furniture; steal things; destroy something at some point; pull on the leash; not move at all on the leash; bark; cry; beg for attention; and the list goes on. You're going to have to walk them, bathe them, pick up everything below waist height, buy new shoes, and most importantly: TRAIN THE PUPPY NOT TO DO THESE THINGS! Ultimately, it is your responsibility to teach your puppy that this behavior is unacceptable.

Puppies turn into dogs...